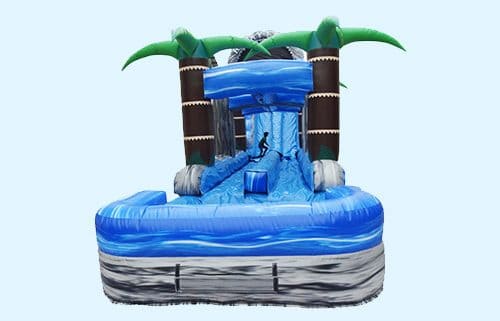 Xtreme Jumpers and Slides, Inc. is widely considerd as one of the most popular water slide rentals company in Central Florida. Here's why:
Largest Selection: We have more than 40 slides and water combos to choose from in our inventory- large, medium, small sized, single and double lanes with numerous themes.
Highest Sitting Platforms: What is the sitting platform? It is actually the height that you sit from. We build our slides with the highest sitting platform possible, while our competitors have lower sitting platforms to save money and inflatable slide weight.
Wider Slides: Our slides are from 11.5 ft. to 13 ft. wide allowing for a wider sliding lane. The average inflatable slide lane is only 9 to 11 ft.
Larger Pools: All of our slides come with large pools that wrap around the entire front of the slide. Our slides are wider with larger pools.
Misting Systems: All of our slides have top misting systems and our two-piece slides have a separate misting system for the attached slip and slide. The majority of our competitors do not have this option, which leads to a lack of "slip" in your "slip and slide".
Slide Condition: Xtreme Jumpers and Slides replaces all waterslides every 3 years. This keeps the colors vibrant and the slide condition in excellent shape with no hanging velcro or lack of inflation tightness
Slide Stability: All of our slides have large stability pads to help stabilize the taller slides.
Just Plain Fast: We have the highest sitting platforms and steepest drops. Riders will make it to the pool with our slides, while our competitors only slide halfway down.
Colors and themes: Our variety of slide colors and themes is unmatched in the rental industry (check out our wide selection of bouncer themes).
There's an Xtreme Jumpers and Slides water slide rentals company near you: