— #1 Party tent rental service company —
Offering the very best event tents for rent in Florida!
Affordable Tents for Rent: Perfect for Any Budget
Looking for that unique, affordable tents for rent?
Look no further! We have a wide variety of tents available at budget-friendly prices. We have options from pole tents to large 20×20′ inflatable event tents to suit any need.
Our rental process is designed to be convenient and smooth, allowing you to quickly secure the ideal tent rental for your event without any difficulties.
Don't break the bank on your next outdoor event - choose one of our affordable tents for rent and enjoy a stress-free rental experience from Xtreme Jumpers & Slides!
20' x 20' POLE
TENT RENTAL
Our frame tents provide the flexibility of setting up on grass or hard surfaces. They can be used as a single tent for small backyard parties or in groups for larger scale events such as fairs and festivals.
All Day Tent Rental for just $275
(For Concrete Add $100)
18' x 18' INFLATABLE CARNIVAL TENT RENTAl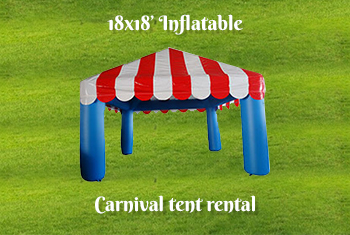 The Xtreme Inflatable Tent is a versatile and durable choice for any outdoor occasion. Measuring 18 feet by 18 feet, it provides plenty of space for people to relax and enjoy the shade. Made with rugged Duratex construction and a heavy-duty vinyl material tent top, it is able to withstand even the toughest party elements. With its ample size and sturdy construction, the Xtreme Inflatable Tent is an excellent choice for any outdoor gathering.
All Day Tent Rental for just $139
OR $115 with another inflatable rental
20' x 20' INFLATABLE CARNIVAL TENT RENTAL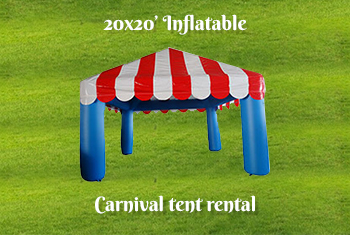 The 20′ x 20′ Xtreme Inflatable Tent provides ample shade and lounge space for people no matter what outdoor occasion it is! Rugged Duratex construction with a heavy-duty vinyl material tent top stands up to the party elements!
All Day Tent Rental for just $159
OR $135 with another inflatable rental
When you're planning an outdoor event in Florida, a tent rental is a must! Xtreme Jumpers & Slides has you covered!
When it comes to hosting an outdoor event, one of the biggest expenses can be the rental of a tent. This is especially true for large events or events that require a specific type of tent. That's why it's important to find a rental company that offers a variety of affordable options.
At Xtreme Jumpers & Slides, we understand that not everyone has an unlimited budget for their event. That's why we offer a range of tent rentals at different price points. Whether you're looking for a small pop-up tent for a backyard party or a large event tent for a corporate function, we have something to fit your needs and your budget.
Our tent rental process is straightforward and hassle-free, making it easy for you to get the tent you need without any added stress. Plus, with our competitive pricing, you can trust that you're getting the best tents for rent deal on the market.
So if you're planning an outdoor event and looking for affordable tent rentals, look no further. Our selection of budget-friendly options is sure to have something that fits your needs and your budget. 
Contact Xtreme Jumpers & Slides today!
Frequently asked questions about our tent rental service