The Unicorn — a unique bounce house rental available in Tampa, and surrounding areas.
For Many years girls around the world have admired the beauty of the Unicorn.  2019 has proved to be no different than the past, as Unicorns are more popular than ever among young girls across the United States.  With unicorn-themed birthday party rentals at an all-time high in popularity, retailers across the country have bulked up their inventory to meet the high demand.  Not only have retailers seen a strong increase in sales of unicorn party supplies, table covers, and many other decorative items, the bounce house rental industry has seen a huge increase in the request for Unicorn themed bounce house rentals.  With Xtreme Jumpers and Slides understanding the high demand of U.S. consumers we have decided to add many different Unicorn themes to our inventory.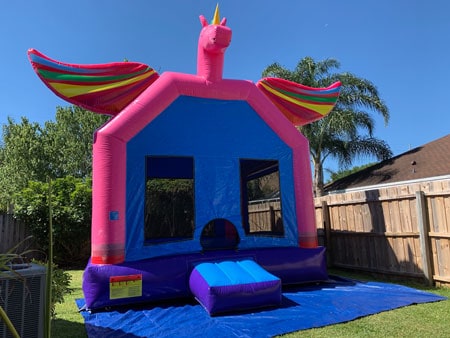 Our Unicorn Bounce House.  This beautiful Unicorn with wings, better known as a Pegasus is absolutely stunning.  With its beautiful pastel colors, large bounce area with 2 basketball hoops and large Unicorn in the Center of the unit, children and their guest will be amazed and entertained for hours in this stunning Unicorn Bounce House. With vibrant colors and images, the experience seems almost magical.
Unicorn Combo 7-in-1.  Looking for a Unicorn bounce house and slide?  First, let's define a Bounce House COMBO Unit before making that decision.  A combo generally offers other things to do outside of just bouncing.  Most will have slides, basketball hoops, climbing walls, etc.  So let's get back to the beautiful Unicorn Bounce Combo.  After years of searching for the perfect Unicorn Bounce Combo that I wanted, I realized it really was not out there.  So what's a man to do when he can't find the right Unicorn Combo?  The answer is simple… go ask your wife.  After getting my wife's input on the Unicorn 7-in-1 Bounce Combo, we came up with a wonderful pink, pastel Unicorn print with images of 2 large Unicorns in a stunning backdrop.  The Unicorn 7-in-1 Combo can be rented wet or dry.  When renting wet the unit comes with a pool, when rented dry the unit comes with a bumper.  Not only when you rent the Unicorn Bounce Combo will you have the only one in the U.S., but this unit also has a lot more to offer than just 2 slides and an amazing appearance.  When ordering your Unicorn Bounce House Combo Rental it also comes with a large bounce area, 2 basketball hoops, and 2 climbing walls.
When making your Unicorn Bounce House reservation, be sure to discuss with the bounce house rental company EXACTLY what it is you are looking for.  A bounce house will just be bouncing, a Combo unit will be bouncing, climbing, slides, etc.  Renting a Unicorn themed bounce house is the perfect way to celebrate your child's special day and Xtreme Jumpers and Slides has the perfect Unicorn Bounce House inflatable in stock.  For most of these Unicorn Bounce Houses the size needed is 18×18′ and for Unicorn Bounce Combo units, the size will need to be 35×20′.
Visit: Xtreme Jumpers and Slides, Inc. – Tampa office
505 E Jackson St #102B, Tampa, FL 33602
(352) 999-0703